Manitou Springs Bathroom Tile Installation
The bathroom is an integral part of your home that is used every single day. You need to make sure that using it comes with convenience in all aspects. Through time, consistent falling of water tends to wear off your bathroom tiles and, therefore, the stains form. You'll need to have trusted allies to provide bathroom tiles that require lesser renovation and restoration.
Colorado Springs Tile And Flooring will be that one ally you won't regret running into!
Our Manitou Springs bathroom tile installers have excellent experiences and greatly satisfied clientele list. Your preferences and ultimate satisfaction is our ultimate priority. We give the best offers at the price you won't bother to question.
We understand that tiles are multipurpose and varied. We will let you choose from glass, natural stone, porcelain, slabs, ceramic, and even steel tile for applications that are within your preference and budget. All the materials available from us are different, each with unsurpassed quality. And with our expert tile installers beside you, what you get is an extensive bathroom tile installation service that's sure to leave you impressed.
Just contact Colorado Springs Tile And Flooring at (719) 259-1418 for your free consultation with a bathroom tile expert now.
Splash It with Your Style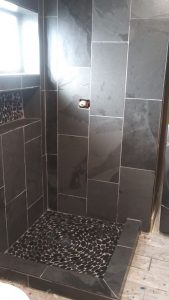 Aesthetic impact has now become as important as considering the functionality of your bathroom. With numerous tile type, colors, design, and texture to choose from, it is overwhelming to pick what you want for your bathroom. However, Colorado Springs Tile And Flooring knows that your personality is a huge factor in finalizing your decision.
To help you choose, here are some bathroom styles that may suit your unique taste:
Traditional Style
Your bathroom will be classic and timeless. If you feel relaxed on a clean-lined, elegant, and soothing type of bathroom, this is your best choice. We can use tile materials that will put to life the Victorian colonial or any other historical periods. The tiles we can use are realistic wood grain tiles or porcelain wood grain tiles that have more stain and water resistance.
Graphic Tile Patterns
Bold prints and colors will make you want to stay in your bathroom longer. Intricate patterns and contrasting colors will truly captivate your heart. Tiles utilized in this style can be marble, ceramic, or porcelain tiles finished to be more creative and appealing.
Modern Tile
You might never want to get left behind. Several modern bathroom tiles are now trending on the internet. Lustrous and clean lines are positively included in anyone's idea of a bathroom. We provide just the right type of tiles for this to be achieved. We have mosaic tiles, ceramic, stone, and porcelain tiles that are best for this style.
Neutral Tiles
Calm and relaxation are prizes waiting if you take this style. Grey, white, beige, and nude-colored tiles of almost all types are offered by our team to achieve this style. With this, your bathroom might even turn into your sanctuary at home. You don't have to worry if it becomes lifeless because we ensure to combine diverse shades of neutral colors, textures, shapes, and finishes to attain the desired aesthetics.
Metallic Style
Metallic style springs out a reflective and shiny bathroom and lets you enjoy a more luxurious vibe. Metallic tiles are composed of stainless steel which is highly resistant to oxidation. It will test your effort in maintaining the luster and shine of the metal. Despite so, it will provide a cooler environment for your bathroom.
Matte Tiles
Matte is becoming popular these days. From clothes to cosmetics and now in your bathroom! If you are tired of seeing glossy tiles everywhere, then it's time for matte to run your style. It makes a soft and powerful charm in your shower room. Matte-finished tiles don't show smudges and marks of water, making them low maintenance. If you use this, we'll make sure to complement it with the right lighting in your bathroom, too.
Dimensional Tiles
Tile shapes are slowly making a spotlight in the bathroom world. Not only colors and patterns but shapes as well are taken into consideration. It creates a visually tantalizing effect that if your bathroom is small, it improves the space perception to it. Geometric tiles can be used largely when achieving an artful accent mixed up with measured arrangements.
Textural Tile Designs
If you want to add more color depth to your usual bathroom, textural tile designs will allure you. Depending on the material employed, subtle or noticeable surface can be done. Your bathroom may be initially simple, but utilizing textures is enough to make it stylish. 3D bathrooms give more life to your usual shower.
If you want to explore your bathroom tile choices even deeper, consulting our in-house experts will be a good move. Just contact us at (719) 259-1418 and get a free consultation.
Manitou Springs's Trusted Name in Bathroom Tile Installation
There has been a lot of circulating ways on how to install bathroom tiles on your own. Without judging your capabilities, we are still positive that hiring professional and experienced tile installers are way better than getting yourself and your bathroom into trouble. The only thing you will do is choose and buy the preferred tile.
Here at Colorado Springs Tile And Flooring, we have the complete equipment and full manpower to finish your bathroom tile installation. Hiring us won't cost you a bigger budget. In fact, we have been installing bathroom tiles in homes for years that are not costly at all. Our Manitou Springs, CO expert installers methodically assess the situation and take appropriate measurements prior to the tile installation itself.
Start the journey of achieving your dream bathroom with us today.
We're One Call Away!

Colorado Springs Tile And Flooring promises to deliver your well-deserved bathroom! Our services are as concrete as the tiles we'll use for your bathroom. We understand the complexity of maintaining beauty in your place without compromising the durability and the main usefulness of bathrooms. The installation will not take longer than what you expected.
Just contact Colorado Springs Tile And Flooring at (719) 259-1418 for your free consultation with a bathroom tile expert now.