Woodland Park Commercial Tile Installation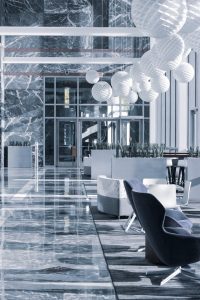 Are you constructing a new commercial building? Or are you about to renovate an old one? Whatever is the case, we are here to offer the tile installation service that will be perfect for your space.
If you want a durable and stylish flooring for your area, commercial tiles are the answer. Whether you manage or own a small business, real estate, and other company properties in Woodland Park, Colorado Springs Tile And Flooring will deliver and install the most fitting floor tiles for your commercial building.
Commercial tile flooring has increased its popularity for a good reason. They last for a long time and offer a wide variety of design options. Different types of commercial tiles will address your business needs and purpose.
The best news? We have them all right here in Colorado Springs Tile And Flooring!
Our team of commercial tile installation experts is more than happy to work with you. We will take your preferences into account and give you the top options that will work for your commercial building. From the design to the type of tiles you should purchase, we will provide expert suggestions.
If you are now ready to discuss the details of your flooring project or you need more information to finally decide, talk to one of our experts today.
Contact Colorado Springs Tile And Flooring at (719) 259-1418 for a free consultation with a commercial tile expert in Woodland Park now.
Factors to Consider Before Tile Installation
Floor tiles come in practically all shapes and sizes you can imagine. They can either be tiny 1-inch tiles or be some large 24-inch tiles; the choice is yours. Although commonly, square tiles between 12 and 18 inches win the hearts of purchasers.
However, there is more to choosing the right tiles than just considering their sizes. When it comes to commercial tiles, you especially need to be more technical.
The following are factors you should consider before installing commercial tile flooring in your facility:
Type of tiles. It is essential to understand what type of materials the commercial tiles are made of. Some of the common types of tiles in commercial flooring are the following:
Quarry. Quarry tiles look and feel like traditional bricks. They are all-natural and are very durable. Because quarry tiles are resistant to slips, spills, and moistures, they are mostly recommended for commercial kitchen flooring.
Natural stone. When it comes to beauty and elegance, natural stone tiles are the best choice. They include marble, granite, slate, and limestone tiles. Natural stone tiles tend to be more expensive and require resealing every two to three years due to their porous nature.
Ceramic or porcelain. These tiles are probably the most common type of commercial floor tiles. They are durable and cost-effective. Ceramic and porcelain tiles are stain-resistant and don't quickly absorb water. They are best used for commercial kitchen and bathroom flooring.
Glass/decorative/mosaic. This type of tile is mostly used as a decorative element to the flooring. If used for the entire floor, the grout lines in between the tiles tend to make the space too crowded.
PEI rating. This rating is given to every single type of tile. Through this, one can choose the most appropriate tile based on the location where it must be used. The lower the rating, the lower the recommended usage for that particular type of tile.
PEI rating of 1 indicates that the tile is for wall installations. On the other hand, a PEI rating of 5 shows that the tile is great for commercial areas with heavy foot traffic.
Style. Your commercial tiles can be customized to fit your company's needs and image. You can choose to have them oversized to fill a wide, open space, or you can choose smaller tiles to become accents or focal points. Your chosen tiles can also be shaped as a square, rectangle, or any other geometric shape you want them to be.
Color and grout. Depending on the type of material you chose, your tiles can come in many colors. The grout to be used between the tiles will come in various colors as well. You need to find the perfect combination between these two that will fit your space.
To highlight the color of the tiles, choose light grout. To emphasize the flooring design, use dark grout. Additionally, dark grout is fit for high-traffic commercial areas where dirt will mostly occur. It can effectively hide dirt traces better than light grout.
Installation method. When it comes to the installation process of commercial tiles, patience, skills, and attention to detail are essential. You need to choose a professional team that will ensure quality installation for your building. Your property must be respected, and installers must be dedicated to producing visually appealing outputs.
Although installation techniques may differ based on the materials and design of the commercial tiles, most tile floors are placed starting from the center of the room. This ensures the symmetrical finish for the flooring. Also, installation time will vary depending on how wide is the space that the flooring will cover.
Tiles vs. Carpets
For commercial flooring, tiles and carpets are the top two options. These two are practically the same when it comes to price and floor coverage. However, they provide different sets of benefits.
Here's a quick overview of the difference between commercial tiles and carpets:
Durability. For durability, tiles easily win over carpets. From the moment you use it, a carpet starts to wear down, and it will only get worse over time. However, commercial tile flooring can hold its quality and beauty for at least a decade. The tiles you install today will be the same-looking tiles you will see even ten years later.
Hygienic. For commercial areas where traffic is high, and health is a concern, tiles are still better over carpets. Unlike commercial tiles, carpets will attract and hold all kinds of dirt, molds, hairs, dust, and pollens. These are difficult to remove, which then creates problems for those with allergies or asthma.
Maintenance. Again, carpets fall behind commercial tiles when it comes to maintenance. The cleaning process with carpets is expensive, intrusive, and time-consuming. On the other hand, commercial tiles are generally way easier to maintain. Most types of tiles only need regular sweeping and mopping without the need to worry about permanent stains.
Style. Even if carpets have their visual appeal, well-designed and properly installed commercial tiles still top the aspect of flooring style. With your imagination and preferences as the only limits, tiles can hold various color combinations and patterns that are guaranteed to amaze your building's visitors and staff.
Benefits of Hiring Professional Commercial Tile Installers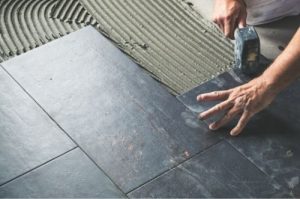 Some projects are undeniably fun to do by yourself. Often, it will even save you a significant amount of money. However, when it comes to tile installation, especially in a commercial area, it is best to leave the job to the professionals.
Aside from saving you time and letting you avoid some hassles, here are some of the benefits of hiring professionals for commercial tile installation:
Warranty protection. Most tile manufacturers won't abide by the warranty terms if damages on the tiles or grout occur due to wrong or improper installation. If you choose not to hire expert installers, you are at risk of forfeiting your warranty. On the other hand, hiring professionals to do the job will ensure that the warranty is protected, and any future issues with your commercial tile flooring will be covered.
Fast installation. Professional commercial tile installers can finish the job faster than you or an inexperienced person. Also, if ever some unexpected issues present themselves during the installation process, the pros have enough knowledge and experience to find an effective solution immediately.
Proper tools. Unlike you, professionals have access to the special equipment necessary to install commercial tile flooring properly. They can easily spread the grout, cut the tiles, and smooth their edges with the special tools they already have at hand.
Reduced wasted tiles. Contrary to first-timers and DIYers, professional commercial tile installers can easily take measurements and calculate the exact amount of materials needed. This will help you avoid purchasing too much or not enough tiles and other necessary materials. Additionally, expert installers won't likely end up breaking tiles or incorrectly cutting them.
Water damage prevention. Improper installation of tiles will let water seep through the cracks and gaps. This will then lead to the development of mold and mildew on your floors, allowing some health issues to arise. If you hire a professional to install your commercial tiles, none of this will happen. Proper installation means no water damage.
Best Commercial Tile Installation in Woodland Park
For expert installation of your commercial tile flooring, Colorado Springs Tile And Flooring is the right place to go in Woodland Park. What we offer is guaranteed quality work with competitive pricing and commendable results—both for durability and attractiveness.
Here in Colorado Springs Tile And Flooring, we have professional tile installers who have the skills and patience required to install your commercial tiles properly. Our team is made up of members who are committed to rendering quality service from the start to the end of the installation process.
We work in a precise manner that ensures all our measurements are correct, all the tiles were properly cut, and the job will be completed on time without foregoing quality. You can rest assured that we will take care of your property and present nothing short of a beautiful finished product.
Do not hesitate and work with us today.
Free Consultation

Your commercial building should have the kind of flooring that doesn't just attract people but will also last for a long time. If you want to have an informed decision on what commercial tiles are best for your area, talk to one of our experts.
Contact Colorado Springs Tile And Flooring at (719) 259-1418 for a free consultation with a commercial tile expert in Woodland Park now.