Woodland Park Floor Replacement Company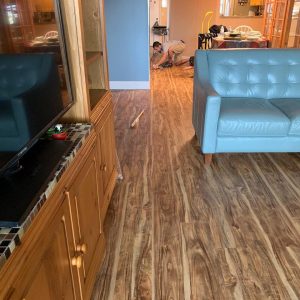 Floors are essential for any home or office improvement project. They add to the appeal of the space and improve the way people move through spaces. Through time, these floorings will get worn down, and you will need to replace them before someone gets hurt because of your faulty floors.
While you can do it by yourself, floorings must be replaced carefully. Not all floorings can be installed through simple methods, and not all flooring types work for certain areas. If you want to get it done, our team at Colorado Springs Tile And Flooring can help you out. Our team can work on any space – residential or commercial – and can assess what is the right type of flooring to use to replace the ones you currently have.
Our flooring experts in Woodland Park, CO will sit down with you to know what you need so that when we are done with your project, it is perfect and long-lasting.
Call Colorado Springs Tile And Flooring at (719) 259-1418 for a Free Consultation and Estimate!
What Flooring Types Can We Work On
Our company has been in the flooring business for several years now, and our clients here at Woodland Park will tell you how committed we are to providing the best flooring to any space we work on. As a result, we can handle any floor you want us to work on. Some of the most common floorings we can work on include tiles, laminate flooring, and vinyl flooring.
When you reach out to us, we will provide everything you need to know about the floors and how our service will be done. We will be assessing your space, guide you through all the possible options and layouts we can work on for space, and how long the replacement will take. We guarantee that you will not regret reaching out to us and that you will be informed about every action we will take for your project.
Why Us?
Colorado Springs Tile And Flooring is Woodland Park's trusted flooring company and has been so since we opened our doors. We understand how important floorings are for residential and commercial spaces, which is why we are driven to pick the best flooring that we can get for our clients.
Once our experts receive your project, they will take the time to understand the project details to determine how we can help and do it efficiently. We will take time to visit your space, recommend what is best for the area, and reach out to our partners to get high-quality and durable materials that are within your budget.
We can even work on personalized flooring projects if you want to experiment on the type of floorings you can use for your home or facility. We offer free consultation and estimates so you can decide if you wish to get our services.
Contact Today

Here at Colorado Springs Tile And Flooring, we provide customers high-quality, affordable, durable, and attractive flooring options that will work for any home or business space. We guarantee that your requirements will entirely be met once we finish installing your new floors. Everything will be within your budget and in accordance to your ideal image.
Call Colorado Springs Tile And Flooring at (719) 259-1418 today for a Free Consultation and Estimate!