Florissant Tile Installation
Nothing displays the quality, luxury, and style of your home quite like durable, attractive tile floors. From sleek, classic tile designs to modern, funky, statement tiles, Colorado Springs Tile And Flooring is your Florissant tile installation experts, professionally installing the tile of your dreams in the rooms of your choice.
We provide professional tile installation for all rooms of your home, including outdoor tiling projects. Whether you are looking for tile floor installation, tile backsplashes, tile showers, or tile tub enclosures, or if you are looking for new tile for your entire home, we have the perfect solution for you.
As tile design experts, you just need to come to us with an idea and a desire. We create a compelling design that speaks to your ideas and style, source the perfect products to complete your project, and complete all installation and finishing to ensure your new tile is functional, long-lasting, and appealing. We can even create custom tile murals, install tile inserts, or add other finishing or stylistic elements to deliver a space that you will be in love with for a long time to come.
Call Colorado Springs Tile And Flooring at (719) 259-1418 for a Free Consultation & Estimate!
Why Should You Consider Tile
There are many different flooring options that you can choose for finishing your home, but few provide the versatility of tile. Not only can you get natural rock and stone tiles, you can also get high-quality printed tiles that have the look of wood, other stone types, or even contemporary or modern designs.

Tile is not only versatile; it is also durable and long-lasting compared to other flooring types. Whether you choose a natural stone, a ceramic tile or porcelain tile, or would like to utilize a combination of different tile types to complete the entire project, we help you get the perfect tile for your needs. We also provide many different placement and layout options, including herringbone, subway, basketweave, offset, random, and more, allowing us to completely customize the appearance of your tile floors.
Tile is easy to clean, low-maintenance, attractive, affordable, and durable. These qualities make it a great investment if you are looking for an enduring, impactful flooring option. Our Florissant tile installation professionals provide consultations to ensure you are getting the ideal tile products for your home and project.
Call Colorado Springs Tile And Flooring at (719) 259-1418 for a Free Consultation & Estimate!
Custom Tile Designers
Colorado Springs Tile And Flooring provides more than just expert tile installation services. We also provide professional tile design!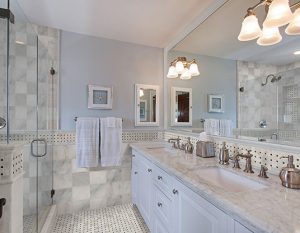 We consider your space, desires, style, and budget to determine how to best use to tile to renovate or update your space. Tiling your bathrooms, kitchens, or floors throughout your home is a big project. You need to be sure the finished project is complementary to the other elements of your home, as well as something you will enjoy living with for a long time.
Our tile design experts help you match and coordinate tiles that fit your space, work well together, and create the finished look that you desire. From selecting complementary floor, shower, and backsplash tiles to building custom murals, or simply installing new tile floors in different spaces throughout your home, we provide dedicated and expert support.
As your Florissant, CO tile installers and designers, we are truly dedicated to delivering a functional, attractive, and durable space that you love living in.
Professional Tile Installation
We assist with all aspects of tile remodeling for your home, and that includes professional tile installation for your floors, walls, or any other space you desire to finish with attractive tile elements.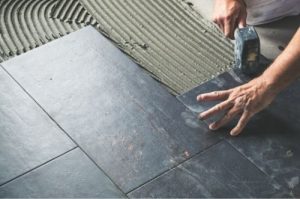 Our tile experts select the right type of tile, discuss finishing and complementary grout colors, and ensure that tiles are properly floated and secured for a level and durable finish. Some types of tiles and applications require sealing, which we also handle. We understand the unique properties of the many different tile types, and assure that we properly handle each different type that is used throughout your home and design. Our ability to adjust our process to your selected tile and unique home means that you have even more choices for tile selection.
Layout, spacing, adhering, finishing- all of these must be done properly for an attractive tile installation that impresses long-term. As tile installation contractors, our professionals take your project from concept to completion with speed and skill.
Call Colorado Springs Tile And Flooring at (719) 259-1418 for a Free Consultation & Estimate!
Best Tile Flooring Services
As your Florissant tile installation company, we are dedicated to delivering quality products, attractive finishing, and competent support throughout your entire home improvement project.
Whether you are looking for tile floors, backsplashes, tub or shower enclosures, or any other tile design or installation project, Colorado Springs Tile And Flooring provides complete service. We are excited to deliver a beautiful finished tile project that is attractive, affordable, and makes your house feel like home for a long time to come.
Call Colorado Springs Tile And Flooring at (719) 259-1418 for a Free Consultation & Estimate!