Coal Creek Residential Tile Installation
Whether you are remodeling an old home or building a new one, residential flooring will be a major thing you need to decide on. If you already did quick research, you probably found out that tiles remain one of the most preferred flooring materials by homeowners.
Tiles are hard to beat when it comes to design and durability. Throughout the years, they have proven to be wise investments for homeowners. Their initial costs are worth it because their beauty and other benefits can be enjoyed for at least a decade—given that they are well taken care of.
The right tiles will make a big difference in your home. They will aesthetically reflect your personal style while providing a long-lasting floor that isn't hard to maintain and won't cause any health concern, either.
However, no matter how amazing the quality of your tiles is, if you worked with the wrong installation partner, it wouldn't have any bearing at all. The quality of your tile materials will be downplayed by the improper installation and overpriced service provided by the wrong company installer.
If you are a homeowner here in Coal Creek, CO and you want to avoid the hassles mentioned above, Colorado Springs Tile And Flooring is the right place to go.
We have a team of experts that are perfectly able to give premium service for you and your home. From picking the most fitting style to finishing the job with expert installation, we assure nothing but a service you won't regret paying for.
If you want to start discussing your residential tile flooring project today, do not think twice and talk to one of our experts.
Contact Colorado Springs Tile And Flooring at (719) 259-1418 for a free consultation with a residential tile expert in Coal Creek now.
Installation Process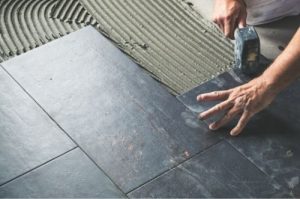 Residential tile installation is a multi-step process that usually takes 1-3 days. It depends on the space that the process will cover and the complexity of the chosen layout.
To install the tiles, you first need to prepare the surface. Make sure that it is clean, flat, and ready for the tile installation. Next, based on the type of tiles you chose, set the tile with mortar. Lastly, grout the tiles and apply the appropriate type of sealer.
However, note that the final step varies for each type of residential tile. Most ceramic and porcelain tiles don't require sealing, yet all unglazed tiles need to be sealed before getting grouted. The grout will also vary based on the size of your joints.
Before you think about doing the installation yourself, know that each step of the process requires some sort of special tools. Every single thing must be done properly with efficiency unless you want improperly installed tiles that are prone to damage.
Benefits of Hiring Professional Residential Tile Installers
Professionals went through a lot of learning, training, and experience before getting their titles. Hiring the experts to install your residential tiles will surely have its advantages. Some of the benefits of hiring professional tile installers are the following:
Protected warranty. Manufacturers won't likely honor the terms of your tile warranty if damages occur due to improper installation. If you're a first-timer in tile installation, you're putting your warranty at the risk of getting forfeited. By hiring a professional tile installer, you are protecting the warranty of your tiles and can be assured that future damages will be covered without any issue.
Quick installation. One obvious benefit of hiring a professional tile installer is the fact that they can finish the installation job way faster. They already have enough experience to know the exact steps to follow to precisely install the tiles without taking ages. Also, if ever unseen issues arise, they have the knowledge to come up with solutions easily.
Special equipment. For someone to properly install residential tiles, special tools are necessary. If you let a professional handle the installation, this won't be a problem. They have access to the necessary equipment to efficiently spread mortar and grout, to precisely cut the tiles, and to smoothen their edges, among many others.
Minimal wasted materials. If a DIYer or a first-timer will install the residential tiles, there is a great chance that the tile will be cut incorrectly or that a lot will end up broken. If you hire a professional tile installer, this is far from happening. Also, they can calculate for practically the exact amount of necessary materials. This way, you wouldn't purchase too much or not enough tiles.
Resistance to water damage. Having the professionals install your residential tiles, it is almost always guaranteed that they will be properly installed without the risk of getting cracks and gaps. If an experienced person takes on tile installation, chances are these cracks and gaps occur and will let some water seep through them. This then leads to the growth of mold and mildew that will later become health hazards right inside your home.
Best Residential Tile Installation in Coal Creek
When it comes to tile installation, Colorado Springs Tile And Flooring is probably one of the best companies to work with around Coal Creek.
We have a team of experts who will provide quality service from choosing the best tiles to properly installing them. If you get overwhelmed by the wide variety of design options that our tiles have to offer, don't worry- our resident experts will give you valuable insights based on your preference, budget, and location.
With us, you also won't have to worry about improperly installed, poorly cut tiles. Our installers are all experienced professionals with knowledge and expertise we will always vouch for. Rest assured, what you'll see is a clean and visually pleasing set of tiles at the end of every installation project.
With competitive pricing and premium quality materials and services, you won't go wrong with hiring us for your residential tile installation project.
Free Consultation

Your home is a safe haven for you and your family. It deserves not just the best materials to build it but also the experts to take care of it. So for every need you have when it comes to tile installation, do not hesitate and talk to one of our consultants.
Contact Colorado Springs Tile And Flooring at (719) 259-1418 for a free consultation with a residential tile expert in Coal Creek now.