Coal Creek Porcelain Floor Tiles
If you ask around, you may find that porcelain tiles are among the homeowners' popular choice for flooring material. And that shouldn't come as a surprise at all.
Porcelain floor tiles share the same class with ceramics. They are amazingly versatile with both indoor and outdoor uses. They are tough, long-lasting, and can withstand frequent changes in weather and temperature. Even better, porcelain tiles ranked the highest for its endurance against abrasion.
In Colorado Springs Tile And Flooring, we offer porcelain tile flooring services with ensured quality. The aesthetics of porcelain floor tiles matched with the expertise of our flooring professionals will surely put more value in your money.
We will help you find the porcelain floor tiles that best fit the design of your home or building. From the tile's color to its texture, we will expertly guide you in purchasing the most appropriate tile for you—design and budget-wise.
Whatever size and style you want or need, Colorado Springs Tile And Flooring can provide the porcelain floor tiles for you, yet if you are still undecided, there's also no need to worry. Our flooring experts are ready to help you.
Contact Colorado Springs Tile And Flooring now at (719) 259-1418 for a free consultation with a porcelain floor tile expert in Coal Creek, CO.
Overview
Porcelain tiles are stronger, harder, and more water-resistant than ordinary ceramic tiles. If you consider that ceramics are durable already, imagine just how much longer porcelain tiles will last.
Its increased durability and quality can be achieved by finer particles of clays fired at an even higher temperature compared to what was used with ordinary ceramics. The porcelain tiles will then come out harder with less porous surfaces. However, some porcelain tiles may be more brittle compared to high-standard ceramic tiles.
Additionally, porcelain tiles also have the same minor drawbacks to using ceramics for flooring. They are also bulky, cold, hard, and uncomfortable to stand on.
Cost of Porcelain Floor Tiles
Originally, porcelain floor tiles are known to be significantly more expensive compared to standard ceramic tiles. However, as porcelain tiles skyrocketed in popularity, the difference remarkably decreased. To this date, porcelain tiles cost as much as good-quality standard ceramic tiles.
For porcelain floor tiles alone, the price may range from $5 to $25 per square foot of tiles. With expert installation, you may need to add another $10 to $25 per square foot of porcelain floor tiles. Taking into consideration the ability of porcelain to last for decades, this amount of initial cost is surely worth it.
If you want to make sure how much you will spend on your flooring project here in Coal Creek, talk to a flooring professional today.
Contact Colorado Springs Tile And Flooring at (719) 259-1418 for a free consultation with a porcelain floor tile expert now.
Maintenance and Repair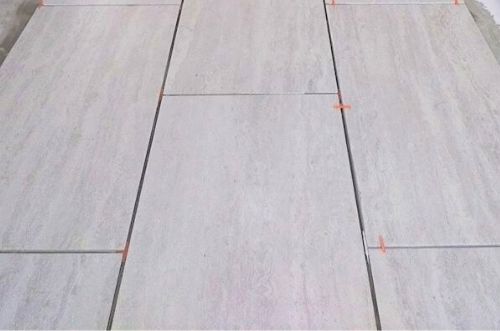 Porcelain floor tiles are hard, dense, and solid. They can withstand heavy stresses, which makes them ideal not just for residential but for commercial use as well. However, the hardness of porcelain tiles may lead to brittleness.
Make sure to use porcelain with at least 5 PEI rating in your flooring projects. This type of porcelain tiles are more suitable as flooring materials in high-traffic areas and where heavy kinds of equipment will be used. By using rated five porcelain floor tiles, maintenance and repair won't demand too much from you—physically and financially.
Porcelain tiles are naturally resistant to stains and water due to its density. This makes the tiles easy to clean and maintain. Regular sweeping and mopping will already ensure the cleanliness of porcelain floor tiles. Spills can be easily cleaned with a damp rag or mop, and disinfecting the porcelain surface is just a piece of cake.
However, even if porcelain floor tiles are far from getting stained, damaged, or penetrated by water, the grout lines in between the tiles are vulnerable. They need to be sealed to prevent future damage. And sometimes, even if proper care is given, grout lines may still be affected by humidity and moisture. Mold and mildew may cause them to discolor.
Over time, if some damage eventually occurs on your porcelain flooring, removing and replacing an individual tile won't be a difficult task. To make the future possible repair process easier, store an extra box or two away of your chosen porcelain floor tiles. Aside from not having to run to the store again, you can ensure that when you need to replace some tiles, the type, size, color, and style will match.
Comfort and Convenience
Like standard ceramic tiles, porcelain floor tiles come with coldness and hardness. Despite their durability, these "inconveniences" can put a frown on some homeowners' faces.
Fortunately, the usage of area rugs can somehow help with porcelain's hardness. Also, installing radiant floor heating systems will solve the problem of having cold porcelain tile flooring.
However, if you live in an area with a warmer climate, you can treat the coldness of porcelain floor tiles as an additional benefit.
Installation
Installing porcelain floor tiles is much like the installation process of ceramic tiles. The procedure will be time-consuming and difficult.
The tiles are hard and heavy. Precise cuts can be challenging to achieve if you are not a professional who uses special saws. Although hiring an installer would add to your expenses, it is still better to leave the job to the expert. This will prevent you from wasting expensive materials due to mistakes that a professional will not commit.
For a clean and quality installation of your porcelain floor tiles, contact us at (719) 259-1418 now.
Pros and Cons of Porcelain Tile Flooring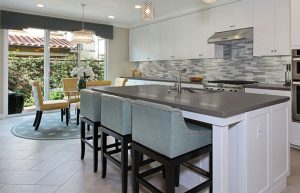 The following are the advantages of using porcelain floor tiles:
Can be used in various areas within your home
Offers a wide array of design options
Can mimic the visual effect of other flooring materials like marble, granite, steel, wood, bamboo, or cork
Durable enough to withstand any kind of traffic for decades
Hygienic option due to being easily cleaned with stain and water-resistance abilities
Designed to be frost-proof that it becomes suitable for outdoor use even in areas where the temperature may hit below zero
The following are the disadvantages of using porcelain floor tiles:
May require special material to hold it down due to being less porous
Heavy and can be brittle
Difficult to install for DIYers
Best Porcelain Floor Tiles in Coal Creek
If you already set your heart on purchasing porcelain floor tiles, Colorado Springs Tile And Flooring can offer the best ones for you. And even if you still aren't quite so sure, our floor tile experts can help you decide on what's best for your project.
We have a collection of porcelain tiles that you can choose from for whatever flooring project you have. Whether you are remodeling your bathroom or constructing a pool for your family, we have the appropriate type and design of porcelain tiles for you.
From the quality of the material to how aesthetic it looks, we guarantee that you wouldn't regret getting your porcelain from us. Your money will be invested in a good-quality flooring material that will please the eye of any onlooker.
So for the best porcelain floor tiles in Coal Creek, CO, look no further. We have them right here for you.
Free Consultation

If you want to utilize the performance advantages of ceramic tiles, but with the outstanding appearances of other traditional flooring materials, porcelain floor tiles will be a great choice.
To decide what to purchase, and know how much it will cost, talk to a flooring expert today.
Contact Colorado Springs Tile And Flooring now at (719) 259-1418 for a free consultation with a porcelain floor tile expert in Coal Creek.