Sedalia Tile & Flooring Contractor
Are you ready to replace your flooring with attractive new tile, laminate, or luxury vinyl floors? At Colorado Springs Tile And Flooring, our Sedalia tile and flooring contractors have the attractive, fast, and affordable solutions you need for flooring renovation!
We are dedicated, motivated, and excited to provide you with durable, long-lasting, and attractive flooring solutions that truly make your house feel like home. Whether you would like to replace outdated flooring or have new tile installed in your kitchen, bathroom, or throughout your entire home, we provide high-quality products and speedy service.
For both residential and commercial flooring needs, our flooring company delivers for you. Fast, friendly, and professional, our tile experts will treat your project with the same care and attention to detail that they would if completing the project in their own home.
Call Colorado Springs Tile And Flooring at (719) 259-1418 for a Free Consultation & Estimate!
Best Flooring For Home & Business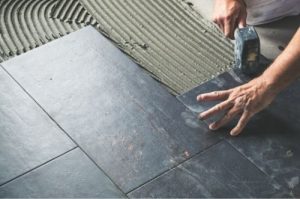 Your Sedalia tile and flooring contractor, we understand how important it is to work with a floor company that puts you first. Our experts assist with design, product selection, layout, sourcing, and installation. This full-service approach to flooring installation ensures you get exactly what you are dreaming of.
Whether you have a single-family home, cabin, condo, apartment, multiple spaces, or a commercial space, we are the best flooring contractors for your home or business!
We provide everything you need to get the floor of your dreams. Whether you simply need your selected tile installed, or need assistance determining what type of flooring or design will work best, we are here for you. We provide:
Overwhelmed with the many flooring options, styles, and layouts? Our tile and flooring professionals at Colorado Springs Tile And Flooring will assist you throughout your project. We guarantee your total satisfaction with our finished product by working closely with you during design, installation, and finishing.
Sedalia Floor Company
Colorado Springs Tile And Flooring is not just another flooring and tile contractor in Sedalia, CO. We work with a passion for quality materials and services and are driven to satisfy every one of our individual clients.
Installation Experts – The years of combined and individual tile and flooring experience of our Sedalia experts ensures that you are working with the best providers in the industry. Our professionals take on your project with skill and speed, and deliver excellent results for you.
Custom, Professional Advice – Choosing the best flooring solution for your home and family can be confusing. From laminate to tile, knowing what product to use in what areas to best suit your lifestyle is a job our experts are prepared to assist you with. With our experience in the tile and flooring industry, we consider your particular family needs, home type, and decor style to provide you with the best possible advice.
High-Quality, Durable Materials – You deserve only the best tile or flooring solution. We treat your custom project as if we were working on our home, which is shown in our dedication to high-quality materials and processes.
Free Flooring Consultation – We bring the creativity to you! Many homeowners need assistance selecting the perfect style of tile or flooring, or may have specific and unique ideas that they would like to have realized. Whatever your situation, we provide a free consultation to prove why we are the best flooring company for you!
Call Colorado Springs Tile And Flooring at (719) 259-1418 for a Free Consultation & Estimate!
On-Site Tile and Flooring Services
Colorado Springs Tile And Flooring provides the high-quality, durable, and attractive tile and flooring options that your home or business deserves. We guarantee top-of-the-line tile and flooring products, five-star customer service, and an end result you will be proud to call your own.
From flooring to backsplashes, indoor or outdoor installations, our Sedalia tile and flooring contractors are ready to deliver the perfect solution for you.
Call Colorado Springs Tile And Flooring at (719) 259-1418 for a Free Consultation & Estimate!