Colorado Springs Residential Tile Flooring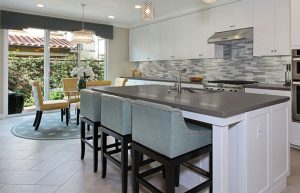 Home is somewhere you should be most comfortable to stay in. Every aspect of your house should not just reflect your personality but should be built with premium materials to ensure durability: the same thing goes for your flooring.
Fortunately, we offer that exactly at Colorado Springs Tile And Flooring. We have high-quality residential tiles of every single type you can think of. From the kitchen to the patio, we have the right tiles for you to use. Whatever design you want for any area in your house, we can surely deliver it with professional installers to finish the job.
Once you avail of our residential tile flooring service, you can rest assured that you will have not just attractive but also long-lasting floors to use and enjoy. So don't wait any longer and start discussing your flooring project with the professionals today.
Contact Colorado Springs Tile And Flooring at (719) 259-1418 for a free consultation with a residential tile flooring expert in Colorado Springs now.
Types of Residential Floor Tiles
Knowing what the different types of residential floor tiles are can help you choose the best one for your home. The following list includes some of the various residential tiles you can use:
Ceramic Tiles
This is one of the most common types of residential tiles due to its versatility. The durability of ceramic tiles also made it a top choice for homeowners. Additionally, these tiles are low-maintenance and come with hundreds of designs to choose from. If you do not have that much of a budget but still want some quality residential tile flooring, ceramics are the tiles to use.
Porcelain Tiles
This type is an all-purpose tile. Porcelain gained its popularity from its ability to mimic other flooring materials without requiring their needed special care. Porcelain tiles are perfect residential flooring material if you want the same finish of other materials without spending as much. It comes with a wide variety of designs, colors, and styles. Porcelain floor tiles can be used both indoors and outdoors. They do not tend to freeze, fade, or crack.
Glass Tiles
This type of tile can be a great alternative to natural stone. Acidic substances can be easily cleaned without leaving a permanent stain on the surface of glass floor tiles. If you want a clean and minimalistic look in your home, glass tiles will be great residential flooring materials. However, these are not advisable to be used in high-traffic areas.
Cement Tiles
This is another versatile type of residential floor tiles. However, they are more appropriately used in low-traffic areas. Cement tiles come with amazing choices of colors and patterns, the latter being enhanced by the development of patina due to the tiles' porous nature. Also, aside from resealing cement tiles every month to preserve their beauty, they can be sanded and resealed if they do experience some discoloration.
Marble Tiles
This type uses a much more costly material compared to other residential floor tiles. However, it will elevate your home's visuals with elegance and a sense of luxury. It is best to use marble floor tiles in low-traffic areas as they are susceptible to stains and scratches. You can use them on shower floors and other smaller areas.
Mosaic Tiles
This type of residential floor tiles come with vast options for shapes, sizes, styles, colors, and materials. By using them on your flooring, you can reflect your personal creative preference in your very home. However, it is recommended to use mosaic tiles sparingly. Also, when using them, choose the style and design that won't quickly look so dated.
Granite Tiles
This type of tile is a natural stone with flecks that look and feel like those of marble. However, there are some significant differences between the two residential tiles. Granite tiles are deemed overused and look like the cheaper alternative to marble— which they are. They are best used in laundry rooms and other secondary places where you want cost-effective tile flooring with excellent performance.
Limestone Tiles
This is another residential tile made of natural stone. Limestone tiles will give you that authentic rustic feel with their natural tones, shades, and variations. They are praised for reflecting ancient architecture and design. These tiles are durable yet soft, making them easy to cut and shape to accommodate different patterns and placements. Although they can be used in practically any space, limestone tiles are mostly recommended for outdoor usage.
Travertine Tiles
Another natural stone tile, this type of residential tile, also gives a sense of natural aesthetic as limestone tiles do. Travertine has a soft and subdued palette of neutral tones with a swirling surface that delivers a uniquely elegant appearance. These tiles can be easily affected by stains, water, and tractions. Extra maintenance and a certain type of sealant are required to ensure that they will last long. For a longer lifespan, it is best to use travertine tiles on low-traffic areas in your home.
Quarry Tiles
This type of residential tile is made with ground materials through a process that's similar to what bricks undergo. Feldspar, clay, and shale are ground together and baked at over 2000 degrees to make quarry tiles. Since they are fired at an extremely high temperature, these tiles are naturally dense, nonporous, and water-resistant.
Quarry tiles either have a natural finish or glazed. They also do not need any sealing and are proven durable. However, they are susceptible to staining and are not suggested to be used in kitchen floors. They are instead recommended for high-traffic areas. This is because quarry tiles are naturally slip-resistant and incorporate a purposeful design.
Resin Tiles
If you can't find the style that you want in a single type of tile, this residential tile will be right for you. Resin tiles let you combine the styles that you want by allowing you to make your tile patterns. They can also mimic the appearance of water and stones.
Unfortunately, resin tiles are prone to chipping and can turn yellow over time. This especially happens when they get extended exposure to the sun. However, resin tiles are excellent flooring materials in wet areas like bathrooms and mudrooms.
Factors to Consider Before Buying
When it comes to flooring, tiles remain as one of the top options. Residential tile flooring is attractive and durable and can be applied to every part of the house.
To make sure that you choose the right tiles for your home, the following are the technical factors you need to consider before any purchase:
Material
Durability
Resistance to water
Ease of maintenance
Resistance to acidic substances
Attractiveness
Size and shape
The appropriate level of sun exposure
Resistance to fire
Best Residential Tile Flooring in Colorado Springs, CO
If you want to give your home the best flooring it deserves, look no further. Colorado Springs Tile And Flooring offers the best collection of residential tiles in Colorado Springs. Whatever type of tiles you want, we have it right here in our store. Every piece of tile is guaranteed to be made out of premium materials alone. Aside from their durability, our residential tiles are also ahead when it comes to designs.
It doesn't matter what kind of look you want your home to have. With our vast options for styles and patterns, you are sure to find the most fitting design for you and your family.
However, if you can't think of a specific concept just yet, our experts can also help with that. Whatever advice you need for your flooring project, we offer free consultations to help you choose the perfect residential tiles for your home. And that's not all. From free consultations to quality installations, our residential tile flooring services are one of the most commendable in Colorado Springs, CO.
Don't think twice and work with us today.
Free Consultation

From the quality of the materials to how aesthetic it looks, there is a lot to consider in choosing the residential tile flooring that best fits your home. Although it will all come down to your personal preference, it won't hurt to acquire recommendations from some professionals.
Contact Colorado Springs Tile And Flooring at (719) 259-1418 for a free consultation with a residential tile flooring expert in Colorado Springs now.