Cripple Creek Marble Tile Flooring
If you want to remodel your house or building with a regal look, marble tile flooring will be a nice touch.
Marble has been prized for its elegance and style for millennia now. It is a building material quarried from the world's mountain ranges and manufactured to adorn royal palaces throughout the centuries. If you want the same luxury in your place and you're ready to provide its required maintenance, Colorado Springs Tile And Flooring is here to offer premium quality marble tile flooring.
With our vast options for marble tile designs, you are sure to achieve that sense of wealth and splendor they are known to give. Even if you want a more complicated layout to up the already high-end appearance of these marble tiles, our flooring professionals can do the job for you.
From giving suggestions on what's the most appropriate type of tiles to installing the actual marble flooring, we are your trusted partner here in Cripple Creek, CO.
Contact Colorado Springs Tile And Flooring at (719) 259-1418 for a free consultation with a marble tile flooring expert in Cripple Creek now.
Overview
Whether for commercial or residential uses, marble is a very popular flooring material. It is a natural stone that is quarried and cut into tiles for various uses.
Among the ones available in the market, marble tiles are one of the most timeless and elegant choices for flooring installation. Architects and artists loved the luxury it can give to an area, making it a top building material throughout human history.
Since marble is quarried from various mountain ranges, it resulted in diversity that is reflected among the different marble tiles. They have a wide range of types, sizes, finished, and colors you can choose from. When it comes to designing your floor, you will never run out of options with marble floor tiles.
Aside from its undeniable aesthetics, marble flooring is proven durable. However, it will require some special care. Marble tile flooring is susceptible to certain types of stains and damage. It needs to be treated regularly to prevent spills and moistures from damaging the material.
Cost of Marble Tile Flooring
Since marble floor tiles are considered a premium architectural element, you can expect their price to be on a larger scale. In general, marble flooring will fall on the high-end range of natural stone tiles prices. They can cost you $10 – $20 per square foot of marble tiles. However, some special marbles can even reach up to $40 per square foot.
Additionally, the installation cost will put another $3 – $7 on your expense book. Although you might be hesitant to hire a professional to install your marble tile flooring, their services are necessary, especially if the job requires complicated layouts or cutting. Besides, you can expect the installation to cost lower if the layout is just relatively simple.
If you want to make sure how much money marble floor tiles will cost you, talk to our expert consultant today. Contact Colorado Springs Tile And Flooring at (719) 259-1418 for a free consultation with a marble tile flooring expert in Cripple Creek now.
Maintenance and Repair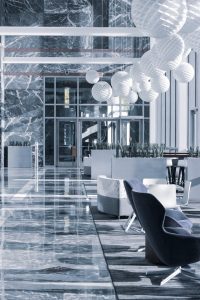 When it comes to the routine maintenance required with marble tile flooring, the regular sweeping and damp mopping will be necessary. However, since marble tiles are porous, water shouldn't be allowed to puddle and stand on the surface for quite a long time. This is because water penetration will discolor and damage the marble.
You should also note that marble tiles can have a chemical reaction when they come in contact with acidic substances. Watching out for a wide variety of foods, sauces, beverages, and cleaning products will be important. The discoloration and stains from these substances are often permanent, destroying the elegant aesthetic of your marble tile flooring.
To prevent this, you can use some penetrating chemical sealer and a surface sealer right after installing the marble. Always remember to annually apply the surface sealer for better protection.
Additionally, despite marble being a stone, it is a relatively soft flooring material. Marble tile flooring can be scraped, scratched, or chipped if put under the wrong stresses. These are more noticeable with polished marble tiles, and, unfortunately, these damages cannot be repaired without the entire replacement of the affected material.
Comfort and Convenience
As much as they are great to look at, polished marble floor tiles can be slick and slippery. This makes them dangerous if used in kitchens and bathrooms, where floors tend to get wet. If you have children and the elderly prone to falling who are living in your home, this will especially become a problem.
To address the issue, you can use some non-slip rugs where polished marble floor tiles are installed. Or, if you don't need them, just purchase the less polished form of your chosen marble tile flooring.
Also, every stone tile is known to be cold underfoot—that includes marble. Fortunately, like other hard flooring materials, marble floor tiles work well with radiant heating systems. Incorporating the system through the underlayment will make the otherwise cold marble into a comfortable flooring.
You should also note that to avoid further inconvenience in future repair processes, you must store at least one box of extra tiles away. This will ensure that if ever you need to replace a damaged tile, you will have a precisely matching marble to use. This is important since finding matching marble floor tiles requires that they were from the same batch of materials from the same quarry.
Marble Tile Designs and Options
Marble tiles are popular for the elegance they bring to an area. With their various sizes and complex mosaic installations, they can easily elevate the visuals in any given space.
Sophistication and glamor can be achieved by installing these famous marble floor tiles. However, you need to choose the right one for your home or building to maximize your investment.
Aside from the classic, glass-smooth white stone, there are still a lot of design options when it comes to marble tile flooring. A wide variety of colors, vein patterns, finishes, and sizes are available when choosing for marble floor tiles.
Consult one of our Cripple Creek flooring experts for free. Contact Colorado Springs Tile And Flooring at (719) 259-1418 now.
Installation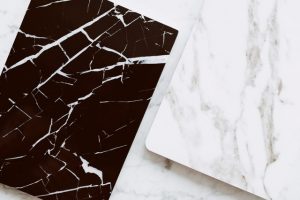 The installation process for marble floor tiles is pretty much the same as that of any other natural stone tiles. It starts with laying the cement backer board over the subfloor then gluing the tiles down with a thin-set adhesive. Once the adhesive dries, joints between the marble tiles are then filled with grout. Finally, the entire surface is sealed immediately after being installed. Sealing should then be repeated every year since installation.
For it to be properly done, installing marble floor tiles are not suggested for DIYers. Marble tiles are heavy yet brittle stones. They are also more difficult to cut and drill, like any natural stone tile. Also, ensuring that the subfloor is prepared correctly is a crucial part of the installation process. So at the end of the day, it is deemed more appropriate to let the experts handle the job.
If you are now in the process of installing your marble floor tiles, work with our experts to achieve quality results. Contact Colorado Springs Tile And Flooring at (719) 259-1418 now.
Benefits of Marble Tile Flooring
The following are just some of the top benefits of using marble tiles for flooring:
Color and pattern uniqueness. There are no two marble floor tiles that look the same. Despite being quarried from the same location and manufactured in the same batch, each piece of marble tiles will always slightly vary in color and pattern. They will still have an overall color uniformity and pattern similarity. However, the minute details that make each piece unique make marble floor tiles so highly prized.
Polished surface. Marble can be extremely polished in ways no other stone flooring materials can. The surface of marble floor tiles can be polished until they turn so smooth and shiny, and the stones' colors are in full show. This polishing makes the tiles even more dramatic and eye-catching.
Translucence. Another reason why designers love marble is because of its ability to allow illumination to penetrate the surface of some light-colored marble floor tiles. This feature gives the tile a slight glow. And even if you use darker marble tiles, lights can still play aesthetically over the surface.
All-natural. Marble floor tiles are natural flooring materials. Although it can't be classified as biodegradable, marble can be recycled and would not contribute to environmental pollution. If you prefer natural materials without sacrificing the visual sides of things, marble floor tiles are your thing.
Best Marble Tile Flooring in Cripple Creek
Colorado Springs Tile And Flooring has one of the best collections of marble floor tiles in Cripple Creek. Wherever you want to install these tiles, we have the appropriate type for you.
Our company has a team of flooring experts that will help you in choosing the fitting shape, size, and finish for your marble floor tiles. Even when it comes to the color and pattern of your tiles, our experts can give you useful insights on what to purchase. We will always consider your purpose and personal preferences to come up with the best advice.
If you want to give your home or office that sophisticated look you love so much, get ready to work with our flooring professionals today. We will provide you with a quality flooring service that will maximize the value of your construction investment.
Free Consultation

When it comes to construction and remodeling, marble floor tiles are among the best material if you want to achieve a glamorous-looking space. However, design options are practically endless, and marble has certain limitations. For expert guidance from a flooring professional, talk to one of our experts today.
Contact Colorado Springs Tile And Flooring at (719) 259-1418 for a free consultation with a marble tile flooring expert in Cripple Creek now.