Cripple Creek Tile Flooring
Tile flooring is an attractive, versatile option that can be used for many different homes, rooms, and areas.
Tile is incredibly versatile, with a wide array of style, material, and use options. If you are looking for the ideal accent tile for your patio, want a custom mural for your shower, are looking for an attractive backsplash for your kitchen, or want wood-look flooring without the maintenance, then tile is the right choice for your home and project.
As your Cripple Creek tile flooring experts, we provide tile solutions for every aspect of your home or business. We look forward to working with you to deliver the affordable, attractive, custom tile floors, backsplashes, and elements of your dreams.
Call Colorado Springs Tile And Flooring at (719) 259-1418 for a Free Consultation & Estimate!
Professional Tile Flooring Consultants
When selecting the right tile flooring for your project, there are many aspects you will want to consider.
As your Cripple Creek tile flooring professionals, we help you answer questions such as:
How much of your flooring will you be replacing? Multiple rooms? A single room? Understanding both your current and future flooring remodeling plans will help us to best install flooring that can easily expand as you continue your renovations throughout your home.

How will floors be terminated to flow to existing flooring in other spaces? Will you need replacement thresholds?

What type of tile do you prefer? Ceramic, porcelain, marble, and stone tiles all have different looks, as well as different finishing and maintenance requirements.

What type of tile-laying pattern do you prefer? Based on the specific size, style, and shape of your tiles, we can offer subway style, herringbone, basketweave, cobblestone, linear, random patterns, or even custom designs, insets, and mosaics to suit your room, application, and preferences.
At Colorado Springs Tile And Flooring, we will be with you throughout the entire project, making sure all of your questions are answered, and that every detail has been properly addressed. As Cripple Creek tile experts, we know how important design, tile selection, application, and finishing is to the overall durability and appeal of the finished product. That is why we walk you through the process as your tile flooring consultants.
Custom Tile for Kitchens
Durable, attractive, and easy to clean, tile flooring is a great choice for kitchens. Your kitchen gets a lot of attention, time, and traffic, especially if you regularly cook family meals. You may have pets, kids, spills, and messes that can make wood flooring, carpeting, and other flooring choices simply a poor option for your space.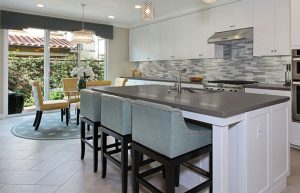 Tiled kitchen floors are a great flooring choice! There are many different styles of kitchen floor tiles to choose from, including wood look, stone finish, even patterned or modern tiles can be installed to update, brighten, or personalize your space. We can install consistent floor tiles throughout your entire home, or can create segmented areas with unique tile or flooring types to best suit the different locations and functions of your home.
Flooring isn't the only area of your kitchen that can benefit from the addition of attractive and functional tiles. Colorado Springs Tile And Flooring will also design and install custom tile backsplashes to complement your countertops, cabinetry, and flooring. We would love the opportunity to discuss how tile can be incorporated into your next home improvement project.
Shower & Bathroom Tile
Bathrooms are another common area where tile is often used to update or remodel a space. At Colorado Springs Tile And Flooring, we provide attractive bathroom renovations for your floors, showers, or tub surrounds.
If you have outdated tile, unappealing flooring, or simply want to create a bathroom that better suits your personal sense of style, we have the custom solutions that you desire. We can assist with all tile elements throughout your bathroom, from the initial design and layout to installation and finishing for maximum durability.
You may already have a particular idea, or may still be looking for the ideal design. We help make sure you get the solutions that are best for you. From recommending specific product types to conceptualizing a relaxing space that suits your aesthetic desires, we are here for you.
Our bathroom tile experts consult with you to determine what tile flooring style, type, and pattern best suits your space, desires, and budget.
Our goal is always to deliver an attractive, functional space that meets the needs of your family. We are ready to discuss how we can best support you as your Cripple Creek, CO bathroom tile experts.
Call Colorado Springs Tile And Flooring at (719) 259-1418 for a Free Consultation & Estimate!
Best Tile Flooring Services
Do not miss our five-star tile flooring services! Our Cripple Creek tile floor experts are experienced, dedicated, and attentive to detail. We look forward to working with your unique tile design ideas. It is our pleasure to create the perfect space for you to call home. When you want to give your home that extra touch of class, personalization, or durability, upgrading your home with new tile flooring, with the assistance of Colorado Springs Tile And Flooring, is an excellent choice.
Call Colorado Springs Tile And Flooring at (719) 259-1418 for a Free Consultation & Estimate!