Manitou Springs Vinyl Floor Installation
If you are in the middle of remodeling your house or constructing a new one, you might be considering using vinyl floor products. If yes, then we have some good news for you. Colorado Springs Tile And Flooring offers a vinyl floor installation service that has proven its quality throughout Manitou Springs.
Vinyl floors are inexpensive flooring materials with a wide range of design options. If durability is an essential feature for you, they will surely be a hit. In Colorado Springs Tile And Flooring, we have all types of vinyl floors and the professionals to expertly install them.
Aside from helping you choose the right vinyl flooring, we will also ensure that it will be installed in your home in the best way possible. Our experts will provide a quality, comprehensive vinyl flooring service that will make your initial investment worth it.
To start discussing your flooring plans, talk to our flooring professionals today. They are always ready and more than happy to serve you.
Contact Colorado Springs Tile And Flooring at (719) 259-1418 for a free consultation with a vinyl floor expert in Manitou Springs now.
Overview
Vinyl flooring was initially invented over 100 years ago as a replacement for linoleum—the original resilient flooring material. Around the 1940s, it boosted in popularity, especially in areas where durability, resilience, and water-resistance are top priorities.
Vinyl floor is mostly used in bathrooms and kitchen due to its maximum ability to resist water while only requiring easy maintenance. This makes vinyl a cost-effective, low-hassle flooring choice for homeowners.
Aside from residential applications, vinyl flooring is also popular for its commercial uses. Because it is low-maintenance, water-resistant, and durable enough not to require replacement early and frequently, business owners love how it can help control upkeep costs.
Additionally, vinyl floors are available in a wide range of colors, textures, and styles. If you prefer it, you can even have it printed to resemble hardwood, stone, or ceramic.
Cost of Vinyl Flooring
You can avail vinyl floors for as low as $0.50 per square foot. They rarely exceed the moderate cost levels of flooring products. It is rare to pay more than $1 to $2 per square foot of vinyl sheets. Standard vinyl tiles also cost similarly while the peel-and-stick variety can be a little bit more pricey.
On the other hand, luxury vinyl flooring can cost as much as $10 per square foot. However, compared to other premium flooring materials, this is still relatively cheap. The difference between the prices of vinyl floor products is based on their design and the quality of materials used in manufacturing them.
When it comes to vinyl floor installation, it is fairly inexpensive. Generally, the cost will range from $1 to $3 added to the cost of materials per square foot of vinyl. For easy installation like laying sheet vinyl over a perfectly flat underlayment, you can expect to pay $1 or even less. If the installation is more complicated or will require a lot of subfloor preparation, the cost will be about $3 or more.
As an estimate, installation plus materials will averagely cost about $3 per square foot of sheet vinyl, about $5.50 per square foot of vinyl tiles, and about $7 per square foot of luxury vinyl planks or tiles.
However, to make sure of how much you should shell out for a vinyl flooring project in Manitou Springs, it is best to talk to an expert. Contact one of our vinyl floor experts at (719) 259-1418 for a free consultation now.
Maintenance and Repair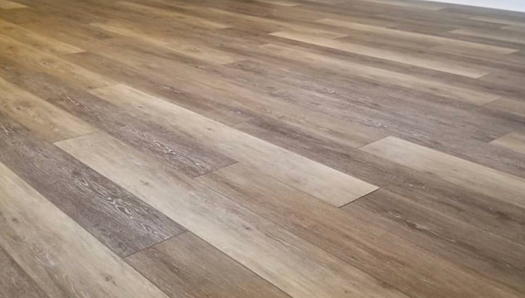 Vinyl is a low-maintenance flooring material. Sweeping can already get rid of the dirt and maintain the vinyl floor surface. Damp mopping or using a suitable vinyl floor cleaner is also enough to remove stains.
Vinyl floor products—tiles, sheets, and planks—have clear wear layers that act as surface barriers. These layers protect the floor from stains and spills, making vinyl so easy to clean. Overall, vinyl floors are among the few easy-to-maintain flooring options.
However, while they are generally stain-resistant, vinyl floors are still susceptible to discoloration when they come in contact with rubber. Mats with rubber backing or rubber shoe heels can cause a chemical reaction once scuffed against the vinyl floor and lead to its permanent discoloration.
When talking about durability, it will depend on the quality of vinyl flooring material. High-quality vinyl is very durable, while low-quality vinyl products tend to rip and tear. Unfortunately, refinishing is not an option for vinyl flooring. They can only be removed and replaced if ever they get damaged.
Comfort and Convenience
Vinyl floors are quite comfortable. They do not get cold even during winter and mostly feel soft underfoot compared to wood or ceramic tile floors. Some vinyl products even have padded underlayer that makes them more comfortable to walk on.
However, there's a bit of an inconvenience caused by vinyl flooring. The chemicals used during its manufacturing can cause toxic outgassing after installation. Release of these chemicals may cause respiratory problems, eye irritation, and asthma reactions. The level of outgassing will depend on the chemical makeup and age of the vinyl floor. Mostly, outgassing occurs pretty early on.
Additionally, vinyl floors are not biodegradable and won't break down naturally. They are very rarely recycled and only end up in landfills. Also, manufacturing vinyl floors use non-renewable natural resources like petroleum and natural gas.
Installation of Vinyl Flooring
The type of materials will make a difference in the vinyl floor installation method.
For sheet vinyl, they are typically laid out over the floor, cut in accordance with the space to be covered, and then glued to a troweled-on adhesive.
For standard vinyl tiles, they are glued down one by one. This is done either with a troweled-on adhesive or by removing the protective backing on the peel-and-stick tiles before pressing them down into place.
For luxury vinyl planks or tiles, they are fitted into place one by one with a click-lock edge connection. They are usually installed as floating floors over the underlayment with no glue-down bond whatsoever.
However, no matter what type of vinyl flooring you want to use, the layout is critical in the installation process. This is to ensure that the patterns and rows are all symmetrical within the room. Planning and precise calculations will play a significant role in getting this done.
Additionally, getting the subfloor as flat and as smooth as it can get is essential to a quality vinyl floor installation. This is because sheet vinyl and standard vinyl tiles are relatively thin enough to allow the imperfections in the subfloor to be seen on the surface.
To ensure proper installation with satisfactory results, it is recommended to let the professionals handle the vinyl floor installation process.
Benefits of Hiring Professional Vinyl Flooring Installers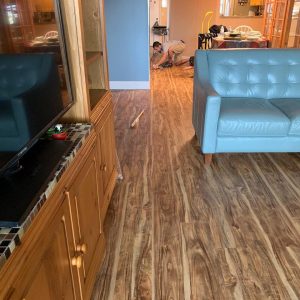 Here is a list of how hiring a professional to install your vinyl flooring can benefit you:
You can protect your flooring warranty. By hiring a professional installer, you can rest assured that the flooring warranty will cover future damages with no issues whatsoever. This is contrary to what will happen if damages occur due to improper installation done by a first-timer or a DIY enthusiast. When this happens, most manufacturers won't abide by the terms of the warranty.
Your vinyl floor will be installed faster. If you choose to hire a professional to install your vinyl flooring, you can expect it to be done on time. They already have the whole installation process down to a science with their years of experience and knowledge. Also, it wouldn't take too much time for them to resolve any unforeseen problems that may arise during the process.
The proper tools will be used to ensure a quality installation. When a professional install your vinyl flooring, special equipment necessary for proper installation won't be a problem. They have access to these tools and will execute every step of the installation as smooth as possible.
Your vinyl floor products won't be wasted. Professional vinyl floor installers can and will calculate the exact amount of materials needed for your project. This will allow you to purchase the right number of vinyl products—no more, no less. Also, their expertise will not likely lead them to damage your materials and wasting your money.
Best Vinyl Floor Installation in Manitou Springs
There's no better installation partner than Colorado Springs Tile And Flooring when it comes to vinyl flooring. We offer a highly-esteemed installation service here in Manitou Springs.
All of our vinyl products are among the best in each of their types. From their quality to their designs, you will have products that will put your money into good use. The even better news is that our flooring experts will help you choose the best vinyl for your home. Based on your personal style, budget, and location, we will lay down your best options and let you choose the vinyl that pleases you the most.
And when it comes to installation, our professional installers are hands down among the best in Manitou Springs. They have years of experience satisfying every single one of our flooring installation clients. We know how to take care of your property and ensure that our service will be another wise investment in your part.
If you are convinced that vinyl flooring fits your home best, do not waste time and start working with us today.
Free Consultation

For more information about vinyl flooring and to help you decide what exact type of vinyl to purchase, don't hesitate to talk to our flooring professionals.
Contact Colorado Springs Tile And Flooring at (719) 259-1418 for a free consultation with a vinyl floor expert in Manitou Springs now.